Free U.S shipping on orders $125+
Shop now
3 bags for the price of 2.
The perfect "meat snack" didn't exist.
So, we created it.
100% Grass Fed and Finished

Why Carnivore Snax?
100%
Grass
fed
high
protein
no
sugar
"It's my favorite snack!"
The Limited time Holiday pack
How is this different than beef jerky?
Carnivore Snax Texture Example
I have no words but will do my best. Buttery, airy, tasty, melty in your mouth goodness. I will never ever eat beef jerky again, I can assure you.
(Equivalent to TWO Reece's cup)
Spices

Marinades

Sweeteners

Artificial Fillers
I have no words but will do my best. Buttery, airy, tasty, melty in your mouth goodness. I will never ever eat beef jerky again, I can assure you.
"Oh man, that is so good!"
Laura Spath
"It's really melty, flaky and light!"
Linda Salant
"Oh my God! So savory, so good!"
Chrissy Briel
"Oh man, that is so good!"

Laura Spath

"It's really melty, flaky and light!"

Linda Salant

"Oh my God! So savory, so good!"

Chrissy Briel
100% American Supply chain from Regenerative Farms
With every bite of Carnivore Snax, you're tasting our unwavering dedication to regenerative agriculture — a farming approach that goes beyond sustainability, actively rejuvenating soil health and fostering ethical animal care. By choosing our snacks, you're not only indulging in rich flavors but also supporting a vision where food production nurtures both body and earth. Dive into a bite that truly makes a difference.
"I don't get dancing feet-giddy-happy very often, but this stuff melts in your mouth. It's too good to not tell people about."
Author & Research Biochemist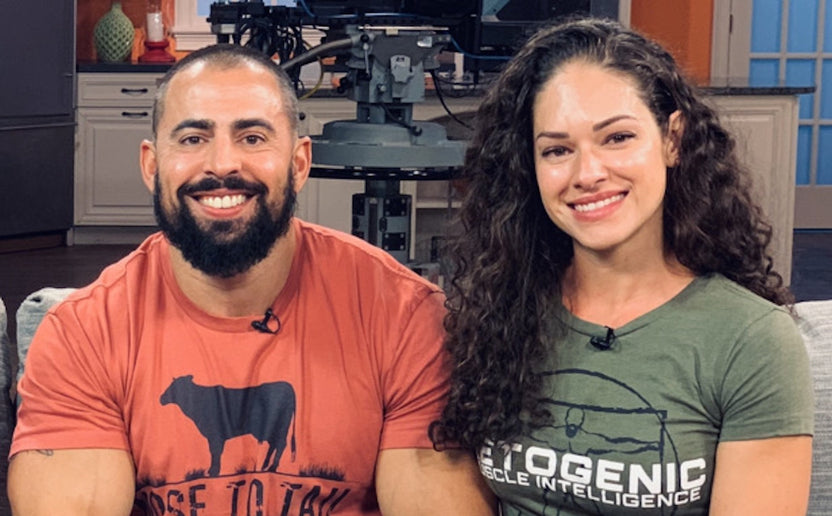 "It's a meat pastry! This is the best. This is everything. Throw me on an island, I'll survive forever."
Fat Fueled Family YouTube Channel
FAQs
What do Carnivore Snax taste like?
When we sent out our first bags of Carnivore Snax to beta testers, we heard a lot of great things. But the one thing people keep RAVING about is…
The TEXTURE.
They're light, airy, and melt in your mouth.
People have called them "steak chips" and even "meat pastries."
(We wish we would have come up with that ourselves.)
When you bite into one of these bad boys, the first thing you'll notice is the salty, savory flavor of Redmond's Real Salt.
Then you'll be greeted with the rich, buttery, velvety flavor of the fat.
Keep chewing, though...
Because you're not done yet.
The crescendo is coming...
As you continue to chew, all the flavors will come together in a beautiful symphony of succulent flavor as this "meat chip" just melts in your mouth.
How are Carnivore Snax made?
Making Carnivore Snax isn't easy.
We spent thousands of dollars and went through a looooong research & development process before we landed on something this tasty.
It took a lot of work to figure out how to transform a ribeye, pork loin, and eye round to the point where they…
Were still nutritious
Were portable enough to fit in your pocket
Actually tasted good
Retained their oh-so-delicious marbling
And meet USDA standards
We use a two-step process that takes twice as long as people who make beef jerky.
Yes… it is more expensive.
Yes… it crushes our margins.
And YES… it's a lot harder overall for us.
But…
That's what allows us to pack a full 1 lb of meat into a 5 oz bag of Carnivore Snax. And it's what makes Carnivore Snax turn out like a meat potato chip that's light, airy and unbelievably delicious.
Here's a surprising fact about beef jerky:
Most jerkies contain A LOT of sugar.
For example, one 3.5oz bag of Jack Link's beef jerky contains 18 grams of sugar.
That's more than twice as much sugar in a pack of beef jerky as there is in a Reece's cup (which contains 8 grams per cup).
What the actual f**k!!!
Beef jerky isn't health food — it's a dessert.
… and don't even get us started on the marinades!
Jerky companies use sweeteners and marinades to add weight to their products. You think you're buying meat — but you're actually getting loads of unnecessary fillers. Too much filler, not enough killer!
On the other hand, Carnivore Snax has 0 grams of sugar and uses NO marinades.
Plus… when you buy a bag of beef jerky, you're buying a whole lot of air.
Biltong is healthier than beef jerky. No doubt about it.
But it's far from ideal.
Why?
Similar to jerky — biltong manufacturers use sweeteners and marinades to add weight and flavor to their products.
Meaning (again) that you're not getting the real, high-quality meat you crave… you're getting sweeteners, fillers, and unnecessary ingredients.
On top of that, most biltong packages are full of air and short on actual meat.
Bottom line:
If you want a bag of heavily marinated meat and air — go for some biltong. You'll love it.
But if you want something that's actually hearty and fun to eat…
Carnivore Snax is what you're looking for.
We use just 2 ingredients:
Full, fatty cuts of 100% grass-fed meat. And salt. That's it.
With Carnivore Snax, it's like having a steak in your pocket… without needing a fork and knife or plate… and without drips or crumbs going everywhere.
Once you feel the light, airy crunch of biting into one, and the rich, buttery flavor… we think you'll agree it's much tastier (and satisfying) than biltong.
How long will my Carnivore Snax last?
Carnivore Snaxs are best enjoyed within 3 days after opening. We recommend refrigeration after 3 days in order to preserve the integrity of their awesome texture.
Consume Carnivore Snax within 10 days after opening. Unopened bags are good for 6 months (if they last that long!). These are preliminary shelf-life tests.
Carnivore Snax can also be frozen if you're going away or unable to consume right away - we do have some customers who freeze them.
Say yes to meat! With the perfect snack.
Get all of your protein in, none of the sugar, fillers and chemicals.